a world premiere by Ann Brebner
​
After a devastating loss, a multi-racial family rebuilds…with the help—and sometimes hindrance—of an unexpected visitor. A beautiful new play from Marin County icon Ann Brebner, developed in residency at AlterTheater.

Written & Directed by Ann Brebner
Associate Director: Reggie D. White
Dramaturg: Duca Knezevic
Starring: Charles Dean, Amy Marie Haven, David E. Moore, Emilie Talbot
Production: Joseph Amic-Angelo, Norman Kern, Janice Koprowski, , Christine Plowright
Supported by Theatre Bay Area's CA$H Grant, San Francisco Foundation, Marin Community Foundation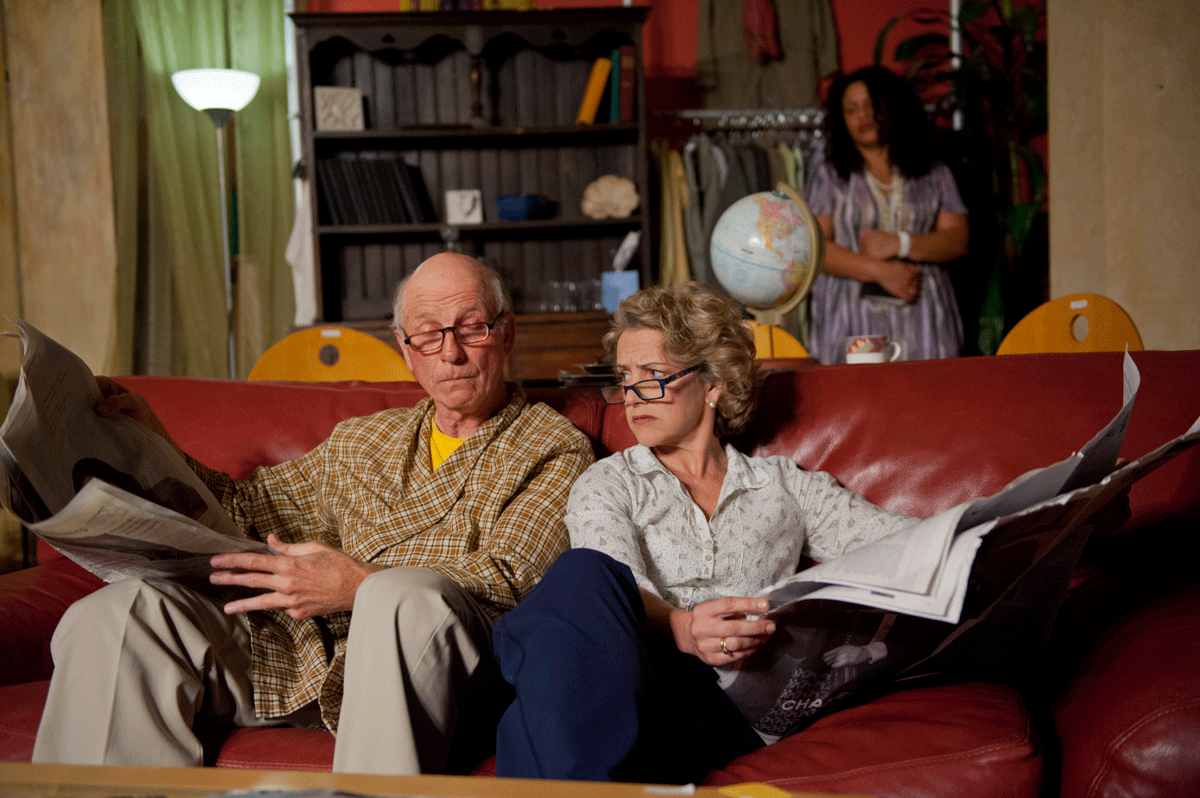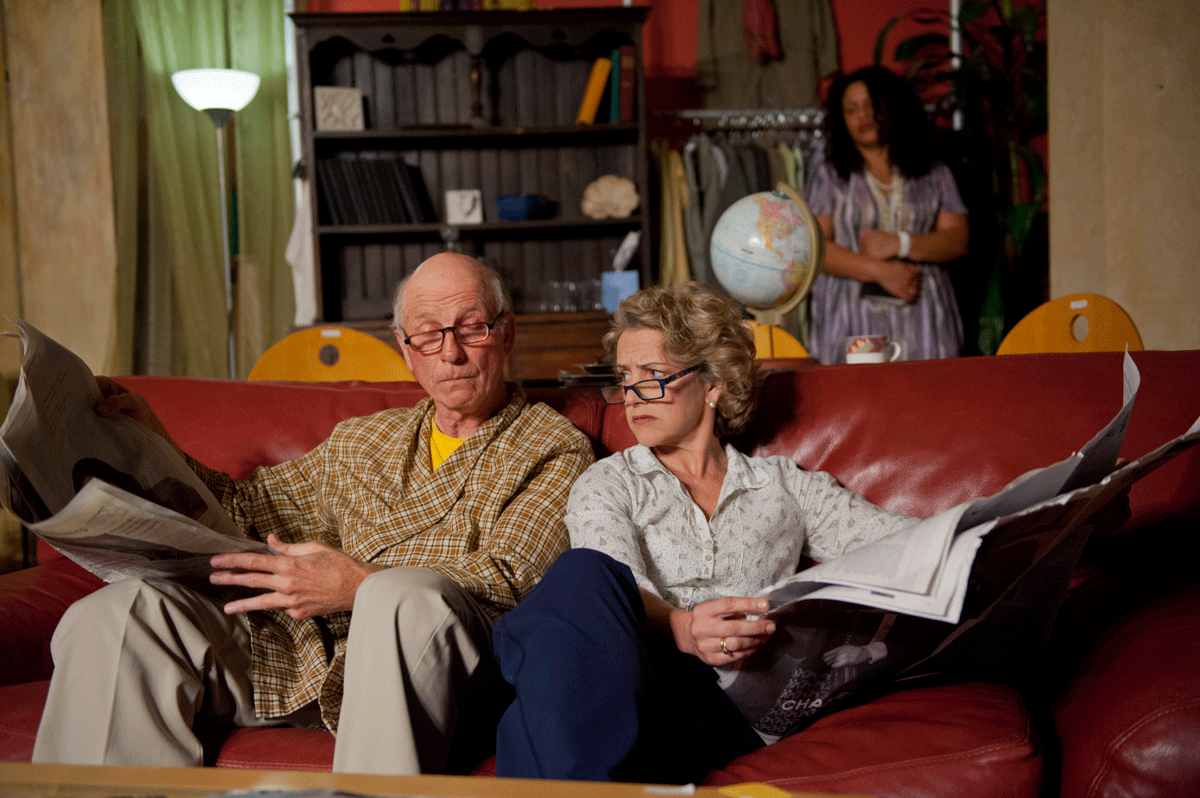 Our 9th season honors longtime AlterTheater associate artist Ann Brebner, who turns 90
in August!
About Ann: Born and raised in New Zealand, Ann moved to Marin in 1953, after training as a director at London's prestigious Old Vic Theatre. Closely associated with all Marin County cultural events and institutions, Ann co-founded the Marin Shakespeare Company, led the drive to restore the Rafael Film Center, and was involved in casting nearly every major film that shot in the Bay Area in the 1960s and 1970s.
Charles Dean began his professional career at the Magic Theatre, where he worked with Sam Shepard, before becoming a company member at Berkeley Rep in 1977. At Berkeley Rep, he appeared in 80 plays over nearly 20 years, playing Norman in The Norman Conquests the first year that Berkeley Rep moved into their Addison Street theatre. Also with BRT, he played Hoss in Sam Shepard's The Tooth of the Crime; Jamie in Long Day's Journey Into Night and Moon for the Misbegotten; the title role in Tartuffe. He has appeared locally with A.C.T., Marin Theatre Company, San Jose Rep, Cal Shakes, in New York at the Public Theatre and on Broadway in Irving Berlin's White Christmas; regionally with the Guthrie, Alliance, Alley Theatre, Milwaukee Rep, Seattle Rep, and Center Stage in Baltimore. Recent appearances include Harry in A Delicate Balance at Aurora Theatre; My Fair Lady at San Francisco Playhouse. Throughout his career, he's been awarded several Bay Area Theatre Critics' Circle and Dramalogue awards.
Over the past 20 years in the Bay Area Emilie Talbot has worked at Aurora Theatre (TROJAN WOMEN, THE BEST MAN), Berkeley Rep, A.C.T., Magic Theatre, and San Jose Rep. Elsewhere around the country she has appeared at or spent seasons with the Oregon Shakespeare Festival, Mark Taper Forum, La Jolla Playhouse, Huntington Theatre, Pittsburgh Public Theatre, and Fort Worth Shakespeare-in-the-Park among others. A founding member of the Los Angeles Women's Shakespeare Company, she was also a core member of Patrick Stewart's Paramount Shakespeare Company. She is a graduate of Duke University, CalArts, and Oxford University.
Before landing in the Bay Area, Amy Marie Haven spent several years traveling throughout Asia, Oceania and Latin America after graduating from UC Santa Cruz with a degree in Literature and Theatre. She has directed for and acted with many companies in California and internationally, including the award-winning Sleepwalkers Theatre (voted best theatre company of 2009- SF weekly), Four Larks, 142 Throckmorton, The Quixote Project, Rococo Risque and Shakespeare Santa Cruz. She is a co-founder of Tomorrow Youth Repertory, a new children's musical theater non profit in Alameda.
David E. Moore began his professional career with an internship at Marin Shakespeare Company, spent a season with the Colorado Shakespeare Festival, and in the past year has played Brutus in Julius Caeser at African-American Shakespeare Company; appeared in the West Coast premiere of Good Goods with Crowded Fire; toured with San Francisco Shakespeare Festival in Puss in Boots; and understudied at Aurora Theatre (The Elaborate Entrance of Chad Diety) and Berkeley Rep (Ghost Light). Favorite roles include Truth in Good Goods for Crowded Fire, Booth in Topdog/Underdog for 6th Street Playhouse, and (as a guest artist) Learned Jack in I Dream of Chang and Eng at UC Berkeley, where David previously earned a B.A. in Theater and Performance Studies.
Associate Director Reggie D. White studied theatre at Cal State Hayward and has directed and choreographed for Bay Area Children's Theatre, Berkeley Playhouse, and Impact Theatre, where he serves as a Company Member. He also serves as a Company Member for PlayGroundSF and was a recipient of Theatre Bay Area's TITAN Award in 2012. In addition to directing and acting, White also teaches for Berkeley Rep's School of Theatre. For more information, check out www.reggiedwhite.com or follow his artistic exploits on Twitter @reggiedwhite.
Dramaturg Duca Knezevic is a theatre scholar and practitioner with teaching credentials on undergraduate and graduate levels. She has worked as a dramaturg for film, radio, and TV. Past employments in the Bay Area include Theatre Rhinoceros and Playwrights Foundation. Extensive knowledge of both history and new tendencies in contemporary arts fuels her constant interests in experiment, multimedia, and utopia of Gesamtkunstwerk, with a strong emphasis on political engagement and responsibility of the artistic community, be it on local or global level.